Click on newly added links below. To use the Inventory Search Engine, click here.
Featured Listing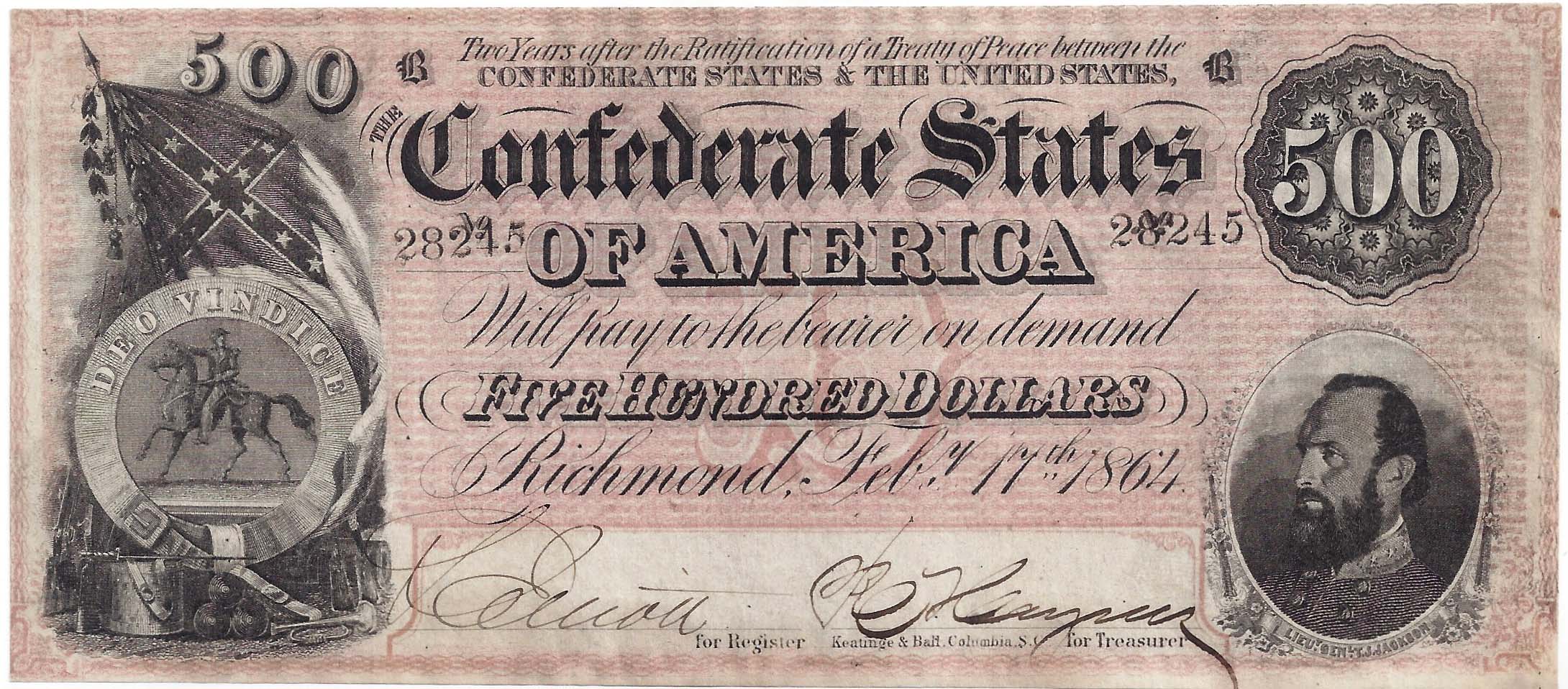 1864 CSA $500 banknote, Thomas Jefferson (Stonewall) Jackson, engraved by Keatinge & Ball.
I have never offered currency before but have a small collection offered in both Miscellaneous sections. Enjoy!
If you do not get my quarterly e-newsletters but want to keep
abreast of the latest news and offerings, click TrishTalk to sign up.



| Date Added | Link |
| --- | --- |
| 11-21-2023 | Postmasters' Provisional Stamps Section 2 |
| 11-21-2023 | CSA 11 on Cover Section 2 |
| 11-21-2023 | CSA 2 on Cover |
| 11-21-2023 | Postmasters' Provisionals on Cover Section 2 |
| 11-21-2023 | CSA 1 on Cover, Section 2 |
| 11-21-2023 | CSA 8, 2-cent Engraved Stamps |
| 11-21-2023 | CSA 4, 5-cent Lithographed Stamps |
| 11-21-2023 | CSA 9, T-E-N Cent Engraved Stamps |
| 11-16-2023 | CSA 12 on Cover Section 3 |
| 11-16-2023 | Georgia Stampless |
| 11-16-2023 | Virginia Stampless, Section 2 |
| 11-16-2023 | CSA 1, 5-cent Lithographed Stamps |
| 11-16-2023 | CSA 14, 1-cent Typographed Stamps |
| 11-16-2023 | CSA 11, 10-cent Engraved Stamps, Section 2 |
| 11-16-2023 | CSA 8, 2-cent Engraved Stamps |
| 11-16-2023 | CSA 6, 5-cent Typographed Stamps |
| 11-16-2023 | CSA 7, 5-cent Typographed Stamps |
| 11-14-2023 | Miscellaneous Section 1 |
| 11-14-2023 | Miscellaneous Section 2 |
| 11-10-2023 | CSA 13, 20-cent Engraved Stamps |
| 11-10-2023 | CSA 12, 10-cent Engraved Stamps, Section 2 |
| 11-10-2023 | CSA 11, 10-cent Engraved Stamps, Section 1 |
| 11-10-2023 | CSA 8, 2-cent Engraved Stamps |
| 11-10-2023 | CSA 7, 5-cent Typographed Stamps |
| 11-10-2023 | CSA 4, 5-cent Lithographed Stamps |
| 11-10-2023 | CSA 2, 10-cent Lithographed Stamps |
| 11-10-2023 | CSA 1, 5-cent Lithographed Stamps |
| 11-10-2023 | Postmasters' Provisional Stamps Section 2 |
| 11-10-2023 | Essays, Proofs, and Unofficial Printings |
| 11-10-2023 | Literature |
| 11-03-2023 | Confederate Patriotic Covers Section 1 |
| 11-03-2023 | Official Semi-Official and State Imprints Section 1 |
| 11-03-2023 | CSA 3, 2-cent Lithographed Stamps |
| 10-30-2023 | Confederate Patriotic Covers Section 1 |
| 10-30-2023 | Blockade-Run Mail |
| 10-30-2023 | Prisoner of War & Civilian Flag of Truce Section 3 |
| 10-30-2023 | CSA 12 on Cover Section 1 |
| 10-30-2023 | CSA 10 on Cover |
| 10-30-2023 | CSA 8 on Cover |
| 10-30-2023 | CSA 7 on Cover Section 1 |
| 10-30-2023 | CSA 5 on Cover |
| 10-30-2023 | CSA 4 on Cover |
| 06-10-2025 | CSA 3 on Cover |
| 10-30-2023 | CSA 2 on Cover |
| 10-30-2023 | CSA 1 on Cover, Section 1 |
| 10-28-2023 | Virginia Stampless, Section 1 |
| 10-26-2023 | CSA 14, 1-cent Typographed Stamps |
| 10-26-2023 | CSA 6, 5-cent Typographed Stamps |
| 10-26-2023 | Essays, Proofs, and Unofficial Printings |
| 10-26-2023 | Postmasters' Provisional Stamps Section 1 |
| 09-29-2023 | Official Semi-Official and State Imprints Section 2 |
| 09-29-2023 | Prisoner of War & Civilian Flag of Truce Section 1 |
| 09-29-2023 | CSA 9 on Cover |
| 09-29-2023 | CSA 7 on Cover Section 1 |
| 09-29-2023 | CSA 6 on Cover |
| 09-28-2023 | CSA 11 on Cover Section 1 |
| 09-28-2023 | Independent State & US Used in Confederacy Section 2 |
| 09-22-2023 | Prisoner of War & Civilian Flag of Truce Section 2 |
| 09-21-2023 | Virginia Stampless, Section 2 |
| 09-21-2023 | Mississippi Stampless |
| 09-21-2023 | North Carolina Stampless |
| 09-21-2023 | South Carolina Stampless, Section 1 |
| 09-21-2023 | Official Semi-Official and State Imprints Section 2 |
| 09-21-2023 | Wallpaper Covers |
| 09-21-2023 | Mourning Covers |
| 09-21-2023 | CSA 13 on Cover |
| 09-20-2023 | CSA 12 on Cover Section 2 |
| 09-20-2023 | CSA 9 on Cover |
| 09-20-2023 | CSA 8 on Cover |
| 09-20-2023 | CSA 7 on Cover Section 2 |
| 09-20-2023 | CSA 6 on Cover |
| 09-19-2023 | Independent State & US Used in Confederacy Section 2 |
| 09-19-2023 | Railroad Covers |
| 09-01-2023 | CSA 14, 1-cent Typographed Stamps |
| 09-01-2023 | CSA 6, 5-cent Typographed Stamps |
| 09-01-2023 | CSA 5, 10-cent Lithographed Stamps |
| 09-01-2023 | CSA 3, 2-cent Lithographed Stamps |
| 09-01-2023 | Postmasters' Provisional Stamps Section 2 |
| 08-25-2023 | Official Semi-Official and State Imprints Section 1 |
| 08-25-2023 | Georgia Stampless |
| 08-25-2023 | Blockade-Run Mail |
| 08-25-2023 | CSA 11 on Cover Section 1 |
| 08-25-2023 | Postmasters' Provisionals on Cover Section 1 |
| 08-24-2023 | Prisoner of War & Civilian Flag of Truce Section 1 |
| 08-24-2023 | Prisoner of War & Civilian Flag of Truce Section 3 |
| 08-24-2023 | CSA 11 on Cover Section 1 |
| 08-23-2023 | Virginia Stampless, Section 3 |
| 08-23-2023 | CSA 12 on Cover Section 1 |
| 08-23-2023 | Florida Stampless |
| 07-30-2023 | Official Semi-Official and State Imprints Section 1 |
| 07-30-2023 | Advertising and College Covers |
| 10-02-2025 | CSA 14, 1-cent Typographed Stamps |
| 07-29-2023 | CSA 3, 2-cent Lithographed Stamps |
| 07-21-2023 | CSA 11 on Cover Section 1 |
| 07-21-2023 | CSA 12 on Cover Section 2 |
| 07-21-2023 | CSA 2, 10-cent Lithographed Stamps |
| 07-01-2023 | Virginia Stampless, Section 2 |