Orders may be made by regular mail, fax, phone or e-mail. If this is our first transaction, it would be helpful if you would fill out the Secure Interactive Order Form using the inventory number preceding each lot, although other brief details are helpful to ensure accuracy, e.g., "CSA 5a, used." Filling out the form helps ensure that I get the proper information recorded in my system. This does not preclude you using the phone or email to order. It just helps me better serve you.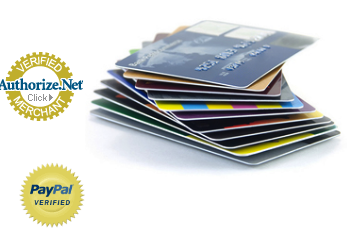 Remit orders to :
Patricia A. Kaufmann | 10194 N. Old State Road | Lincoln, DE 19960-3644
Phone: (302) 422-2656 | E-mail: trishkauf@comcast.net
Payment with order is expected. Payment by cash, check, money order, credit card or PayPal in U.S. dollars only. If you request PayPal on the Secure Interactive Order Form I will send you an email invoice with a link to the PayPal payment processing site. I am PayPal verified.
The order form is completely interactive and secure for credit card payments. I accept Visa, MasterCard, Discover and American Express. Your order will be tallied and, if you are a Civil War Philatelic Society member (formerly CSA), your discount will be automatically figured as well when you click "apply discount." You will need your membership number for the form.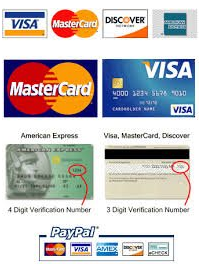 I have partnered with Authorize.Net, a leading payment gateway since 1996, to accept credit cards safely and securely. The Authorize.Net Payment Gateway manages the complex routing of sensitive customer information through the credit card processing networks, adhering to strict industry standards for payment processing including:
128-bit Secure Sockets Layer (SSL) technology for secure Internet Protocol (IP) transactions.

Industry leading encryption hardware and software methods and security protocols to protect customer information.

Compliance with the Payment Card Industry Data Security Standard (PCI DSS).
For additional information regarding the privacy of your sensitive cardholder data, please read the Authorize.Net Privacy Policy
All orders are acknowledged. If you didn't get an acknowledgement, I didn't get the order.
Buyers known to me will have material shipped immediately. If unknown to me, please submit two commercial references, as well as appropriate membership information, i.e., membership numbers in CWPS (formerly known as CSA), USPCS, APS, CCNY, etc. References should preferably be nationally or internationally known dealers or auction houses. If a local or regional dealer, please provide full contact information.

Discounts: 10% discount will given to CWPS (formerly CSA) members on Confederate stamps and covers (not literature). Don't forget your membership number. If you fill out the Order Form, the 10% discount will automatically be deducted but you must have your membership number. There is no discount on books or the occasional consigned item (very seldom).
Care with Order Form entry: Because of recent changes with PCI compliance, if you use the order form, I never see your credit card information. If you check "credit card" as your payment method, the charge is run automatically through Authorize.Net for the amount you entered. I will still check to make sure nothing is amiss with the order and total, but the charge will already have been run. Save us both the hassle of after-the-fact corrections by ensuring you enter the item number, price and total correctly. IF YOU ARE PAYING BY CREDIT CARD, USE THE SECURE ORDER FORM.

Layaway: I offer layaway terms of 30-60-90 days for those larger "must have" purchases. If you need special terms, let's talk.

Layaway Cancellation Policy:
For 3 monthly payment layaway plans, the cancellation fee is 10% of the original order total.
For 6 monthly payment layaway plans, the cancellation fee is 20% of the original order total.

Restocking Fee:
If you cancel an order, or if I have to cancel it because of non-payment, and funds and energy have already been expended to fulfill your order, a restocking of 5-10% of the order may be applied on a case by case basis.
Returned Check Fees and/or Payment Collection Fees:
While I'm happy to say I seldom see this, occasionally a check is returned as unpaid by the bank for various reasons. Should this happen, you willl be assessed an appropriate penalty and charges will be brought if payment or arrangement for payment is not made within a reasonable time.

If you are a dealer and not known to me, please inquire as to discount. No resale number, no dealer discount. If you are not an ASDA, NSDA nor APS dealer member, please provide your resale number, business card and any other dealer organization membership information. You need not be a dealer to buy from me, just to get a dealer discount. Most of my clients are collectors.
* USPS has increased postal rates again as of January 22, 2023. Place your orders accordingly.

Shipping charges:
1. All shipments are privately insured at no additional charge.
2. All orders valued UNDER $100 that are not over-sized, add $1.00 for shipping within the U.S. and $3.00 outside the U.S. All orders within the U.S. are sent by First Class mail. Orders outside the U.S. are sent by Air Mail.
3. All orders valued between $100 and $400, add $5.00 for shipping. I had been recommending priority mail during the height of the pandemic when mail was astoundingly slow. It truly seems to have improved but rates have continued to increase.
4. All orders valued under $400 that contain items that will not fit into a standard #10 envelope / small mailer, add $5 for oversized lots within the U.S. and $6 outside the U.S., assuming flat shipment. Extremely large items, such as over-sized sheets or other items that require tubes, may cost more. Inquire if extra charges apply.
5. Orders valued in excess of $400 but less than $1,000, add $10.00 for PRIORITY MAIL with tracking within the U.S. OR $15.00 for PRIORITY CERTIFIED MAIL within the U.S. or PRIORITY MAIL WITH SIGNATURE CONFIRMATION. First Class Certified mail is not an option. There are too many issues with significantly delayed deliveries or mail caught in exasperating mail loops.
6. Outside the U.S., orders valued in excess of $200, please add $20 for registered mail. Depending on location and order value, Global Express Mail, U.S. Express Mail or FedEx overnight may be the better choie. While far pricier, it is safer and faster. Direct signature is mandatory in order to be covered by my transit insurance policy.
7. For orders valued at $1,000 - $25,000, add $29.00 for Priority Express Mail within the U.S. Direct signature is mandatory in order to be covered by my transit insurance policy. Priority Express Mail is no longer overnight. Delivery is now guaranteed by 6 p.m. on a sliding scale from 1 to 3 days depending on location.
8. Orders of any value may be sent by Federal Express at your expense but preferrably charged to your own FedEx account. Direct signature is mandatory in order to be covered by my transit insurance policy. Federal Express will not deliver to post office boxes.
9. Orders valued $25,000-$50,000 may be sent by Priority Express Mail, Federal Express Overnight, or Global Express Guaranteed. Please inquire on orders valued at $50,000 or more.

Shipping Limitation: Packages worth $1,000 or more will not be shipped on a Friday, Saturday or over a holiday weekend owing to transit insurance restrictions due to greater chance of loss as figured by actuaries.

Return Policy: Any lot ordered that does not meet with your approval may be returned within 15 days (30 days if overseas) for full refund of purchase price. If you aren't happy, I'm not happy. All lots are sold as genuine unless otherwise stated.
The Civil War Philatelic Authentication Service is opposed to the slabbing of stamps. Stamps purchased will not be accepted for a return for reasons of grading as the stamps are not sold per the PSE or PF grading systems. Stamps purchased from this website and subsequently slabbed by anyone after purchase will not be accepted as returns for any reason.

Expertizing Policy: If you wish to obtain a certificate of authenticity, I accept the Civil War Philatelic Authentication Service (CWPAS) on Confederate items. I am a member emeritus of that group and still offer consulting service to them, but recuse myself from opining on any item which I currently own or have sold at any time in the past. I also accept opinions from the Philatelic Foundation; I serve on the PF board. I am not a regular PF expertizer, although I am consulted on occasion. Lots must be paid for in advance and prompt refund will be made if determined other than genuine. Lots sold "as is" are final sales and will not be granted expertizing privileges. Expertizing fees will be refunded if not as described. Lots that have certificates issued within the past five years are not eligible for expertizing except in extraordinary circumstances. Prior discussion and agreement is necessary.
Privacy Policy

All lots are subject to prior sale.
Placing an order constitutes acceptance of stated policies.

Revised February 12, 2023