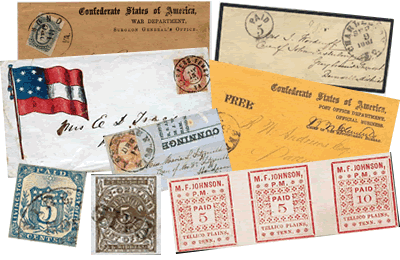 IF YOU'VE JUST DISCOVERED AN OLD FAMILY CORRESPONDENCE FROM THE CONFEDERACY, I'LL BUY IT.
It's not that I'm interested in what great-great-grandfather Randall wrote to his new bride but that, as a postal historian and stamp dealer, I'm interested in the envelopes with those unfamiliar stamps and strange markings. And because they may be worth a lot of money to collectors of Confederate States postal history, they may be worth a lot of money to me and to you. Actually, I AM interested in what Randall wrote, for having an envelope with the contents makes that envelope more desirable to a collector. That means more for you.
FOR HEAVEN'S SAKE! DON'T BURN THEM.
No stamps on the envelopes? Just markings? Or labels? Don't be disappointed. They might well be Postmasters' Provisionals or Confederate stampless covers. They're often more valuable than envelopes with regular Confederate issue stamps. Or, alas, they may simply be nothing, worthless. But let a professional decide.
I KNOW CONFEDERATES BETTER THAN ANYTHING ELSE.
My love of Confederate stamps and postal history goes back many years. I was the editor of the Confederate Philatelist - the leading publication devoted to Confederates States stamps - for 17 1/2 years. I served on the CSA Authentication Service as an active expertizer 1996-2014, now emeritus status and serving as a consultant. I buy and sell these fascinating stamps and envelopes to collectors throughout the world. Over the years, almost every known rarity - and some hitherto unknown - has passed through my hands. Sometimes it has come from lucky "finds" such as you may have just made. All of this is important to you only to establish my credentials, for I want you to send your "find" to me for my buying offer.
YOU'LL GET A FAIR PRICE WHEN YOU SELL TO ME.
My offer is often higher than sellers expect. That's because I know what collectors want, I know the current state of the market, and because I can recognize a valuable "sleeper" if it's among the material sent to me. Many others like you can confirm this. In fact, over 90% of the offers I make are accepted on the spot by collectors and non-collectors who have Confederate material to sell.
Both my interests and resources are broad. Consequently, I'll buy "finds" as small as $500 in value to as high as $1,000,000 or more. Call 1-302-422-2656 or email me at trishkauf@comcast.net
Describe your "find." I'll tell you how to send it to me for my offer. I might even be able to tell you what you have and give you an idea of what it's worth while you're on the phone. It could easily be big enough and valuable enough to warrant my coming to you to examine and make my offer in person. Then we could both thank Randall and his bride.
For testimonials, see "Services" tab.