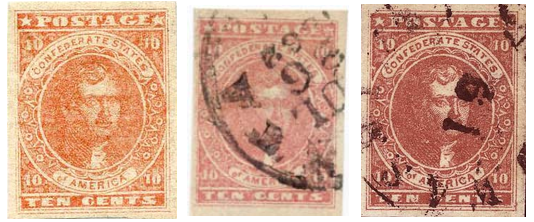 As with most general issues, CSA 5 seems to come in every color of the rainbow.
The stamp on the right is the rare carmine shade.
Catalog Numbers are from the Confederate States of America Catalog and Handbook of Stamps and Postal History
Charles Ludwig of Hoyer & Ludwig designed the stamp's central motif, a portrait of Thomas Jefferson. The same transfer stone was used to print the 10-cent rose, CSA 5, and the Hoyer & Ludwig printing of the 10-cent blue, CSA 2-H. Thus the same plating varieties exist. The color change from blue to rose is thought to have occurred in March 1862. The earliest recorded date of use is March 10, 1862. Based on incomplete records it is estimated that there were 1,150,000 printings from one stone with the imprint "Lith. of Hoyer & Ludwig, Richmond, Va." There are a very few known with the rare "Cammann" imprint or partial "C" - a bit of a mystery to this day and still being discussed by current students. Plating has been completed. Sheets of two hundred, panes of one hundred, and transfer stone of fifty. The color varieties include pink, rose, dull rose, and deep rose, as well as the rare carmine and brown-rose shades. In particular, the carmine should be authenticated as to shade. Plating marks are distinct and repeated. The most typical use is for the ten-cent rate after July 1, 1862, and ten-cent letter rate over five hundred miles prior to July 1, 1862.

Misplaced and Shifted Lithograph Transfers: A misplaced transfer is an image that is on a printing stone in a position that differs from that on the transfer stone. The misplaced transfers were first discovered in the 1920s by Edward S. Knapp and others. They were originally thought to be damaged positions that had been erased and replaced on the printing stones that were in stamp production. Although this is a viable explanation, it now appears that they were on new printing stones and were corrections made when the printing stones were initially laid down. This is a complex topic too detailed to even touch on in a general guide. For more information, see the Confederate States of America Catalog and Handbook of Stamps and Postal History.